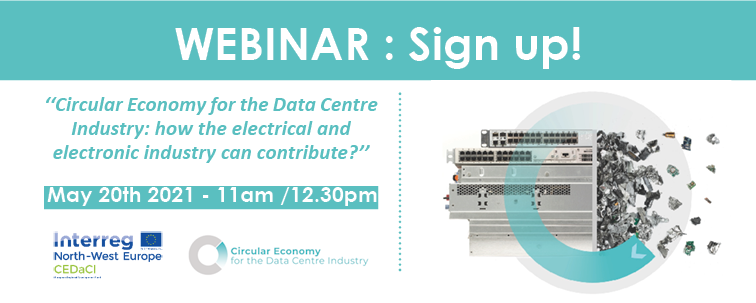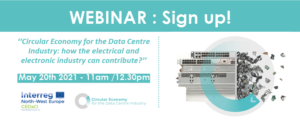 Jeudi 20 mai 2021 aura lieu le webinar CEDaCI « Circular Economy for the Data Centre Industry: how the electrical and electronic industry can contribute? » de 11h à 12h30, organisé par le pôle TEAM2. 
Labellisé en 2010, TEAM2 est le pôle national de l'innovation pour le recyclage qui stimule, accompagne et promeut les filières dédiées à la production et l'utilisation de nouvelles ressources, grâce à son expertise et son réseau de partenaires industriels, scientifiques et institutionnels.
Inscription ici : WEBINAR REGISTRATION : Circular Economy for Data Center Industry: how the electrical and electronic industry can contribute? | Team2
Le programme du webinaire :
Webinar topics: 
CEDaCI project & progress
Ecodesign for the DC equipment
Reuse/refurbish of the DC equipment in practice
How to improve recycling DC equipment (CRM reclamation)
CEDaCI compass tool – life cycle criticality, environmental, social and economic
Question and answers, how to take part!
🎤 Speakers: 
Public authority
WeLOOP
TEAM2
LSBU Londres
Aliter Networks NL
TND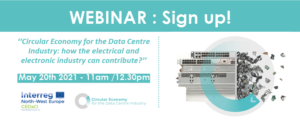 En savoir plus :
The CEDaCI project was set up to kick start the sectoral Circular Economy by raising awareness, advising and informing Data Centre Industry actors by developing demonstration products and case studies. One major output – the Circular Data Centre Compass (CDCC) – a unique digital tool has also been developed to enable users to compare the environmental, social and economic impacts of different equipment. CDCC supports decision-making, whether to upgrade existing equipment, buy refurbished or new equipment, recycle using current processes, or use the CEDaCI process, which reclaims more CRM. The tool also includes a new Criticality Indicator to compare the CRM content in products and an Eco-design Evaluator to enable more Circular Products in line with the EU Circular Economic Action Plan. The electrical and electronic industry has a significant role in implementing the Circular Economic in the DC industry. Starting from DC equipment, the interest is to capitalize and duplicate learning and developments to electrical and electronic equipment!